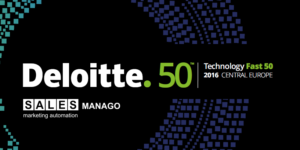 SALESmanago, a cloud-based European Marketing Automation Platform, was ranked as the 11th fastest growing technology company in Central Europe in latest Deloitte Fast 50 ranking. The ranking analyzes technology companies in all Central European countries. SALESmanago with 976% growth rate over the last 5 years takes at the same time the position of the 4th fastest growing Polish hi-tech company.
"We are thrilled to be included among fastest growing Central European companies. What's especially important for us is that out of the Polish companies our growth is 100% based on the production and development of our own technology which we are selling to our customer's worldwide. We do not deal with IT development and IT outsourcing at all. We are capable of producing own intellectual property and then sell it all over the world"  says Greg Blazewicz, SALESmanago CEO & Founder.
SALESmanago Marketing Automation is the fastest growing marketing automation platform in Europe. It is based in Krakow (Poland) and has subsidiaries in the UK, USA, Germany, Romania, India, and currently employs over 230 people. It was founded in 2011 and has over 5000 customers in 40 countries, 80% B2C companies and online stores. Key customers include Orange, WWF, Yves Rocher, Timberland, Aviva, RWE, ToysR US, Praktiker, Telefonica. The company led 2 investment rounds: $2,5 mln, Integer, March 2014 and $6 mln, 3TS (Cisco, EIF), March 2016.
Unique features of SALESmanago include Customer Value Marketing, RFM based marketing automation, AI Facebook bots, mobile marketing automation, predictive analytics, and personalization.
Company is widely recognized a marketing automation leader in various rankings: World's TOP3 marketing automation platform in GetApp/Gartner ranking, World's TOP6 marketing automation solution (Datanyze), Leader of marketing automation solutions for B2C & SMB (Venturebeat Insights).
More information

Greg Blazewicz, SALESmanago CEO & Founder