IT and boxing, boxing and IT. You probably won't find a match that would be less apparent. But we did it! We placed some IT guys in the ring, put the gloves on their hands (also hand wraps, headgears, and mouthguards) and told them to fight! And you know what? It was awesome!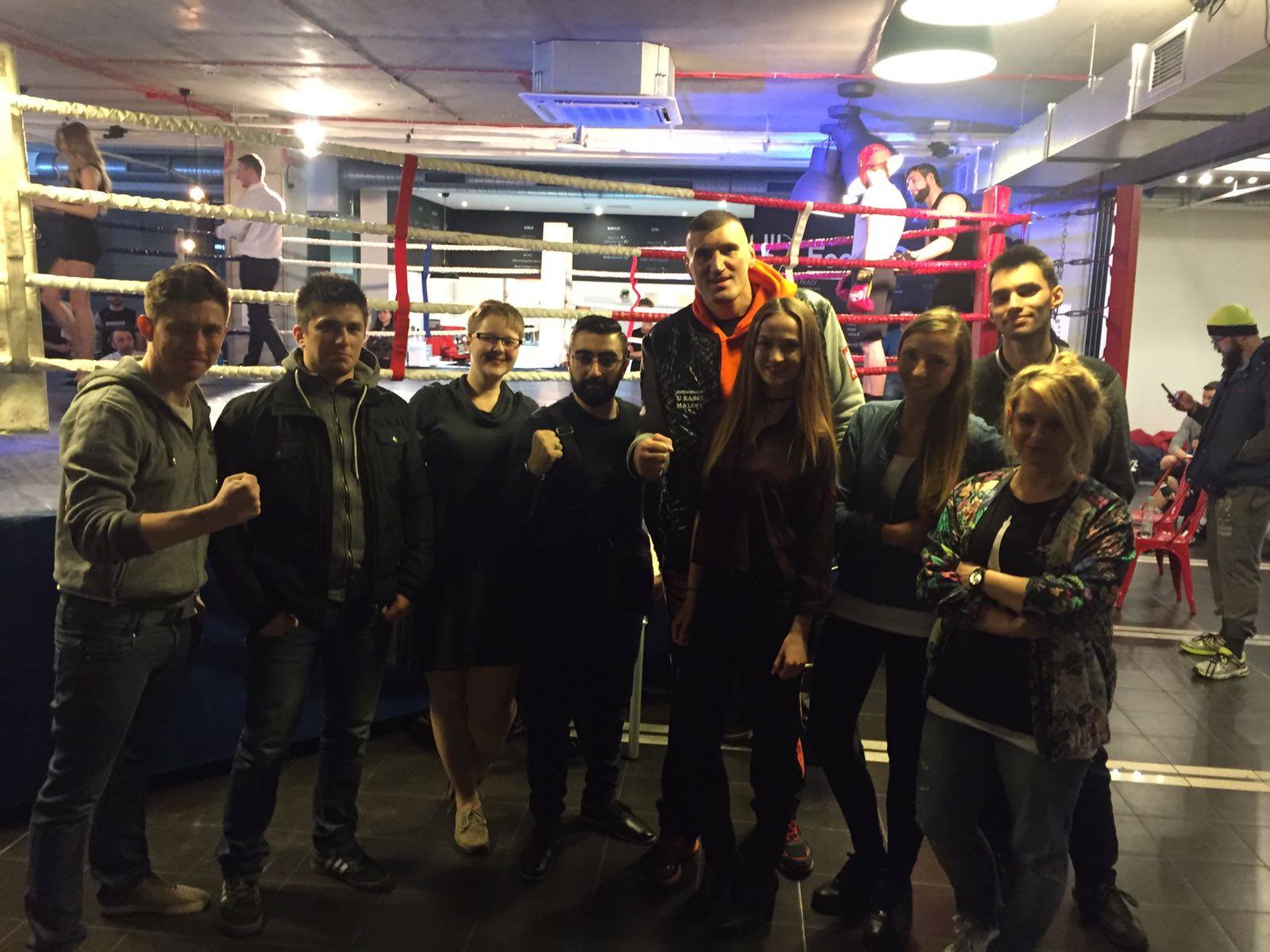 But let's start at the top of the page. A few weeks ago we decided to put some excitement in the steady lives of all IT departments in our area. This idea grew in our minds from the merest mid-week distraction to a whole gala with boxing champion, professional judges, referees, and, of course, hot ring girls!
Without too much ado, APPmanago & SALESmanago initiated a cooperation with Małopolski Związek Bokserski – the local Boxing Federation. We agreed to make the event in a friendly restaurant – Food and People by Pastrami Deli (the best New York style pastrami in this part of the globe). We brought a professional ring into the middle of the venue, as well as other boxing equipment – and so it has begun.
Around 7:00 p.m. our star arrived. Mariusz Wach – a Polish professional boxer and world heavyweight title challenger. He is a former WBC International heavyweight champion and is best known for his 2012 world title challenge against Wladimir Klitschko (in which he lost by unanimous decision after surviving twelve rounds with the Champion).
The fighters were eager to start! They were warming themselves up in almost every free spot – by boxing the air, taking turns on jumping rope, and cheering up those in play.
The fights were scheduled in a tournament mode. Every match consisted of 3 rounds, and each of them was 60 seconds long. In between the main matches, they were also sparring fights between members of the BOXERNIA SERCA KRAKOWA boxing club.
The first fight has only whetted the appetite of spectators for the main event just minutes away. And our special representatives were about to change the way we perceive the board members forever.
Yes, ladies and gentleman. The high point of the Boxing Day was a fight between three champs. You might even call our bluff, but here it is the streaming of 2v1 fight between our founders and Mariusz "Wiking" Wach!
And of course, there were the tournament winners. The champion's belt belongs to Michał Mocny who won in points to Łukasz Kawa in the final round of the tournament by the judges' decision.
An excellent add-on to all of the testosterone-driven, intense emotions were mouth-watering pastrami sandwiches served by tireless staff of Food and People, accompanied by flawless Czech beer.
We promise you it wasn't our final word! Have you been there? Share your memories! Post pictures on our Fanpage!
For more live videos and photos from our events – follow us on Facebook and Instagram!